The international art market jolted into high gear this week on both sides of the Atlantic.
In New York, collectors including CNN anchor Anderson Cooper, tennis great John McEnroe, and Blackstone Group LP Vice Chairman Tom Hill flocked to fairs during the city's annual contemporary art frenzy known as Armory Week. In London, Impressionist and modern art auctions bounced back from last year's doldrums as the U.S. stock market rose to fresh records and non-British buyers benefited from the pound's post-Brexit decline.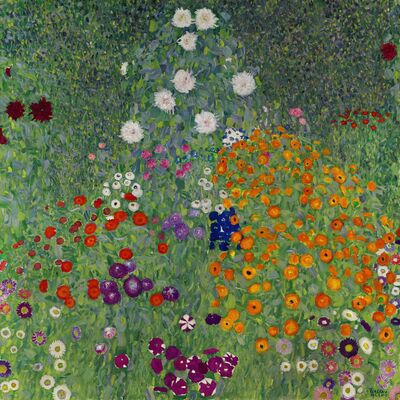 "There's much more activity in the art market again," said Philip Hoffman, chief executive officer of London-based Fine Art Group. "People are coming back who held back last year. The stock market in the U.S. is helping. People feel richer and they are spending money on art."
On the auction front, Sotheby's was the biggest winner. A landscape by Gustav Klimt fetched 48 million pounds ($59.3 million) to lead the company's 213.9 million pound week — a 69 percent jump from the equivalent sales in 2016. Christie's tally rose 38 percent to 161.9 million pounds as the top lot, Paul Gauguin's "Te Fare (La maison)," sold for 20.3 million pounds.
In the U.S., Wednesday's VIP opening of the Armory Show marked the beginning of the major fair season.
Bejeweled Jackets
The main event in New York was quieter than in recent years. Shortly after 11 a.m., Cooper and his entourage were the only people at the Jack Shainman Gallery's booth showing bejeweled jackets by artist Nick Cave and a charcoal and pastel portrait of a young man by Toyin Ojih Odutola.

The aisles were almost empty in the first hour, but several works had been already snapped up thanks to previews on Artsy and early access by insiders. A prominent European dealer bought two works for about $3 million from fellow exhibitors during the setup and at least two booths sold out before the fair opened, according to executive director Ben Genocchio.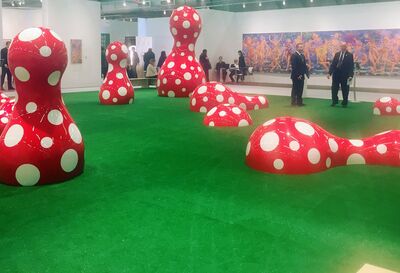 "Compared to last year, the sales are two-to-three times stronger," he said. "An enormous amount of business is done before the doors are open."
A cartoonish painting by fashionable young artist Jamian Juliano-Villani, priced at $45,000 and displayed high up on a pink wall of Jeffrey Deitch's striking booth, was gone within minutes. So was Cecily Brown's abstract canvas with the asking price of $450,000.
Early Nerves
Galerie Thaddaeus Ropac quickly sold two black-and-white drawings by Robert Longo, one showing an American flag flying low and the other a woman in a burka, both for $70,000. Two works by Robert Rauschenberg, priced at $725,000 apiece, lingered.
Many collectors took their time, dealers said.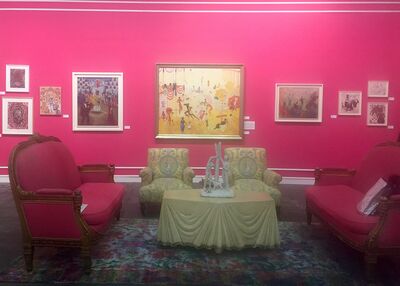 "If you talked to me on the opening day, I was nervous," Augusto Arbizo, director of 11R Gallery in New York, said Friday. "People were putting things on hold and taking a day to think about it."
Yet they returned and pulled the trigger. The gallery ended up selling a half-dozen works by Mika Tajima, Mariah Robertson and Marsha Cottrell, priced at $5,500 to $45,000.
"It was a slow start but things picked up," Arbizo said.
Before it's here, it's on the Bloomberg Terminal.
by Katya Kazakina
March 3, 2017, 6:03 PM EST